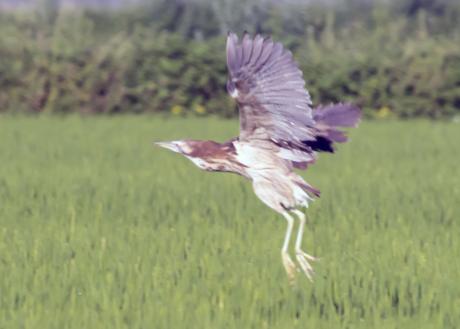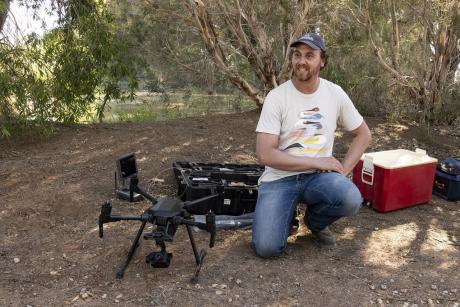 Anna Wilson (Local Land Services) and Matt Herring invited members of the MFN to visit a rice farm and to see firsthand the latest methods used by Matt in locating bittern nests in the rice crops.
Fourteen members took advantage of the invitation and on the Saturday morning (23 January) we all met outside the Andreazza Farm at Wilbriggie and moved in convoy after car pooling behind Matt and Anna around the rice fields to see if we could find any bitterns. We were very fortunate as not long after starting, a bittern flew out of the first rice bay and most of us had a good view of the bird flying off. One other bird was seen flying and several were seen with their head sticking out above the crop during the drive around. Everyone managed to get some good views of the birds and several got some good photos.
Back at the farm house, we stopped for morning tea which Anna generously provided and Matt showed a video of the use of the infra-red camera had which is attached to a drone. Despite the warm morning Matt was able to fly the drone over the rice crop and showed us how the infra-red camera can detect warm-blooded creatures in the area. The best time to use the camera is at dawn and dusk when the temperature difference is greater and the warm-blooded birds can be easily located. Matt was excited as on the previous day, he located a nest in one of the bays that had a young chick in the nest – the first he'd found this season.