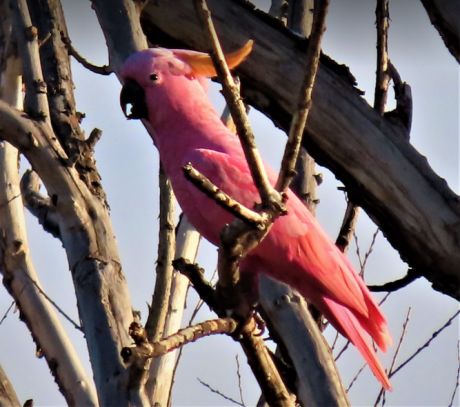 Red-winged Parrot:
A female Red-winged Parrot was photographed by Anne Lepper in her front garden in Catalpa Road on 15 June. She was quite surprised and submitted the photo to Australian Native Birds site on Facebook. It has been seen in her garden daily ever since, both morning and late afternoon often in the company of 8 or more Superb Parrots feeding in the same trees – Chinese Elms.
There was much discussion on Facebook about the bird and it appears that the bird escaped from an aviary in Wamoon when the cage that it was in blew over and the door came open releasing the bird. It was reported that 2 birds a male and female escaped but only the female has been sighted.
This bird is native to northern NSW and is found further north than here. There have been sightings of this parrot in Merriwa in the Upper Hunter which is unusual to be that far east of its normal range.
When my father was alive and I visited in Tamworth, I would often see them along the road just out of Coolah heading north. This is possibly the southern end of their range and they are very common in western Queensland and the Northern Territory with birds easily seen around Darwin.