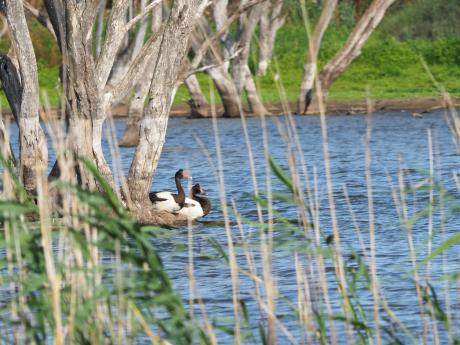 Ten of us met at 7.30am at the Campbell's car park. Defying all predictions about 42 degrees that day, we nonetheless looked forward to getting in at least 4 hours before the heat got too much.
First sighting on arrival was a flock of well over 100 Glossy Ibis flying out of the swamp and heading out to feed in the rice fields. Then a pair of Swamp Harriers circled over the wetlands – the male bird being very active diving into the reeds where I suspect there is a nest.
We decided to head first to the northern end of the swamp in the hope of seeing or hearing bitterns. Some, Virginia and Nella actually, glimpsed a Little Bittern flying out of the cumbungi but it was all too brief for any of the rest of us to get onto it before it disappeared back into the reeds. There was no sign of any Australasian Bitterns that had been in the same part of the swamp for the past 2 months – they may have already headed for the rice fields to set up their breeding sites.
Birds were few and far between on the water but there were a pair of White-fronted Chats feeding on the shore line along with a Black-fronted Dotterel. Out in the water there were several Magpie Geese and on the far bank, a family of them were escorting a bunch of goslings. That would be the third clutch I have seen there this Spring.