Aussie Backyard Bird Count
Primary tabs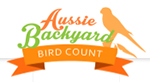 The countdown is on to the second annual Aussie Backyard Bird Count,with the aim of spotting one million birds in seven days!
The birds — and their counters — came out in record numbers for the first Count in 2014, with more than 800,000 birds spotted and many different species seen in backyards across the country. Colourful Rainbow Lorikeets led the national tally, being spotted most often in NSW, WA, SA and Queensland, while the Australian Magpie led the flock in Victoria and the ACT. In the NT, the Budgerigar was the most commonly seen bird, and the House Sparrow led in Tasmania.
BirdLife Australia is hoping to build on the success and momentum of last year's Aussie Backyard Bird Count, and would like to invite you to make every bird count during National Bird Week 2015, 19-25 October.
To get involved all you need is 20 minutes, your favourite outdoor space, and some keen eyesight or binoculars. It doesn't matter if you're a novice or an expert - everyone can take part.
Simply record the birds you know and look up those you don't on Birdlife Australia's Aussie Bird Count app or website (the field guide can be found under the 'Submit your checklist' button). You'll instantly see live statistics and information on how many people are taking part near you and the number of birds and species counted across your neighbourhood and the whole of Australia. Happy counting!