Jacks Creek Outing 27 March 2021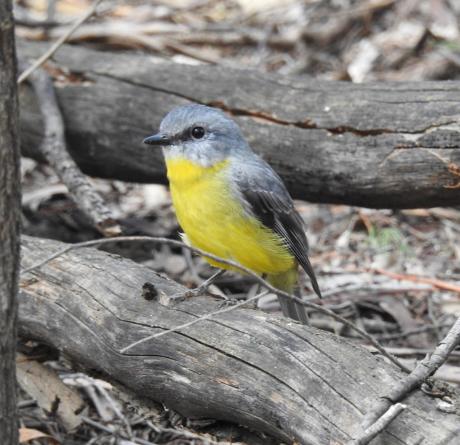 This was a combined outing with the local Camera Club and was very well attended by both groups.
It was also a last minute change to the proposed trip to Oolambeyan National Park but the rain during the week made the Oolambeyan trip impossible because of the road into the park.
However, the group happily started the trek up the escarpment in a clockwise direction which we thought would be easier in the damp conditions. The walk/climb was more of an exercise experience and a chance for the participants to chat and discuss what they were seeing as there wasn't much by way of wildflowers to photograph. Once up on the hill, good views were had of the surrounding countryside and there were many opportunities for the members to get some interesting photos. There was plenty of talk about various cameras and what each felt about their equipment and preferences.
The rock faces of Jacks Creek with its distinct bedding also provided interest and we learnt of the amberrat, a black gooey substance in rock crevices was the fossilised crystalline urine of native rats that could be centuries old, maybe millennia. See photo on left. At much the same point the rocks are daubed white with the guano from a peregrine falcons perch. Although not investigated this time some fossilised ripple rocks have been exposed with some parts breaking off and sliding down the scree slope to the creekside below. Ripple rocks show that the rocks were laid down in a watery environment as a sandy beach, just like our beaches along the Murrumbidgee.
Surprisingly, there was very little water in the creek itself as we had expected that after the rain the few days before, there would have been some flow in the upper part of the creek. It would seem that they had not had as much as Leeton and Narrandera. Even the road into Cocoparra National Park was reasonably dry whereas in other parts further east of Griffith and Yenda, the unsealed roads were still fairly slippery.
Birding-wise, the best birds, as usual, were to be found around the carpark area and picnic grounds. Whilst the list isn't long, there were some nice birds seen, including a family of White-browed Babblers busily building a roosting nest in a small pine near the toilet block. They were quite unperturbed by all of us having lunch close-by after we got back from the walk – they just kept bringing beakfuls of grass and sticks to the nest site.
After the BBQ lunch and plenty more chat, we all dispersed by about 3pm.
Bird list:
Mulga Parrot                                Grey Fantail                  Speckled Warbler
Eastern Yellow Robin                   Willie Wagtail                Red-capped Robin
White-browed Babbler                  Rufous Whistler           Golden Whistler
Grey Shrike-Thrush                      Peaceful  Dove             Striped Honeyeater
Spiny-cheeked Honeyeater          Magpie                          Kestrel
White-plumed Honeyeater           Australian Raven
Max O'Sullivan
I ventured further to The Pines picnic area and walked up to the Woolshed Flats waterfall. There was a trickle of water down the rockfall then disappeared underground a couple of feet away!  A dry stream after that!
As I walked to the falls a frog was sending out booming croaks. I've recorded it and as I crept close to where the croak was coming from, it stopped and was camouflaged so well that spending a good half hour sitting, I could not see it, even with binocs. On the way up to the falls, I came across a strong, well constructed Golden Orb-Weaver web and spider.
Then found a further 3 Golden Orb-Weaver Spiders on their webs. They were beautiful in the late afternoon sun.
I then drove up to Mt Bingar to check out our Autumn Greenhoods patch. Sure enough after a thorough search I eventually found this small patch of 5. And they were small, still growing...
What a perfect day
Virginia Tarr.