Join the "Land for Wildlife" program

If you would like to conserve your property's special features, but don't want to sign a legal agreement, you can join the Land for Wildlife program.
The national program run by locals.
The Land for Wildlife (LFW) program is a voluntary property registration scheme for landowners who wish to manage areas for biodiversity and wildlife habitat. LFW encourages and assists landholders to include nature conservation along with other land management objectives. The program is free for landholders to join and is not legally binding. Registration in the scheme will not change the legal status of a property.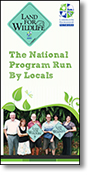 The Community Environment Network (CEN) facilitates and supports Land For Wildlife in New South Wales in partnership with interested local organisations. CEN holds a licence from Land for Wildlife to co-ordinate the program and use the Trademark in NSW. The licence requires CEN to adhere to a number of protocols to ensure the standards of LFW are consistent across Australia.
Land for Wildlife in New South Wales in co-ordinated by the Community Environment Network (CEN) in partnership with the Office of Environment and Heritage (OEH). The CEN works with with interested local organisations who run local Land for Wildlife Programs.