Visiting a Bush Block with the Indigenous Owners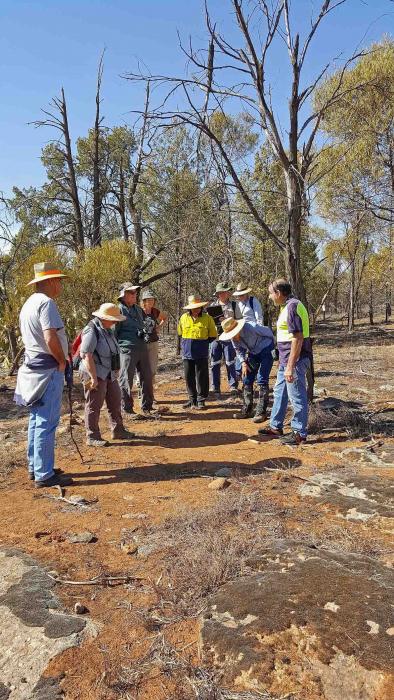 On the 28th April 6 MFN members joined Gary Currey from the NPWS and local members of the Griffith Aboriginal Lands Council to assist with an informal flora and fauna survey of an approx. 30 acre site they own on Mallinson Road Griffith.
GALC hopes to develop a baseline species list for the site and this autumn survey will be followed by another in the spring. Eventually they plan to conduct a cultural burn and follow up with another survey six months hence.  They have been advised by the Rural Fire Service the site hasn't burnt for 50 years so there's potentially a big seed bank waiting to regenerate. They also hope to manage the Prickly Pear and revegetate and rehabilitate the fire trail to reduce erosion.
There was a valuable exchange of knowledge between all the people involved. The field nats learnt about the many medicinal properties of Eremophila longifolia and the string that can be obtained from Kurrajong trees Brachychiton populneus. Emu and kangaroo nets up to three metres tall could be made from the string as well as other domestic necessities. Also Kurrajongs have a seed pod that was roasted and eaten and a great tap root as fat as a carrot. We also learnt that Wilga Geijera parviflora was used for shelter. The leaf litter under these trees was burnt to remove scorpions and ants and the canopy then provided excellent shelter. The Wilga also harbours Harlequin Mistletoe Lysiana exocarpi which has good snotty gobbles, a juicy little fruit.
On the way home from the Griffith bio-diversity survey some of the Field Nats stopped on Thorne Road where Griffith City Council were assisting the four local Rotary Clubs in their 2018 tree-planting goal.  800 of the planned 1300 plants had been planted that morning and were being watered in by the Hanwood Rural Fire Brigade when we arrived.  We helped direct sow some seeds MFN had collected and offered our assistance when they are ready to plant the remaining 500 plants.
Glen Currie and Nella Smith