Annual Koala Count at the Narrandera Flora and Fauna Reserve 30 April 2017
'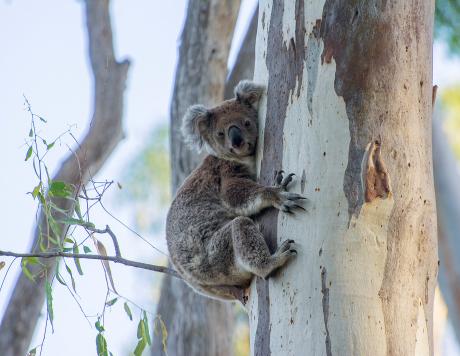 Narrandera's koala population is something of an unlikely success story, where animals from two different states were brought here and introduced to unfamiliar territory. Not only have they survived, they've thrived. The population is healthy, growing and disease free. Since being re-introduced, they've come back like mad," said National Parks and Wildlife Service ranger Angela Lewis. Koalas were re-introduced in the seventies after an absence of more than fifty years.
The weather, always the unknown factor in this event, was kind – fine, mild, calm - the sort of weather likely to tempt people to come "to a great family day out". Families with school aged children contribute greatly to the success of the day because children have the sharpest eyesight. Most of the children this year were too young to be useful koala spotters. I met a friend who was attending her first koala count with her grandson. I remarked that he was the very age we needed. After the count I asked their results: He had spotted the first koala for his group and was just ahead of the media crew, who then interviewed him. "Made his day," said his grandmother.
Statistics: 153 people came to the Flora and Fauna Reserve, locals, people from neighbouring towns, four Europeans and an African and they counted 33 koalas. The Field Naturalists were well represented with a number acting as team leaders.  One of the Rotarians, who was part of the group serving a delicious lunch, sighted a koala in a tree without a ribbon so it was added – 34.
A former resident of Darlington Point said that when he was a boy he saw an occasional koala in the red gum forest along the river, so it is a nice thought that the koalas were not entirely killed out, but that a few survivors may have joined up with the Narrandera population which is spreading up and down the river.
Hopefully I will meet up with you all at next year's Koala Count.
Betty Bradney