Vale Ian Auldist

For over 40 years, Ian Auldist championed sustainable agriculture and NRM issues in the western Riverina.  Much of this area comprises freehold areas of rangeland. Following the demise during the 1970s of the CSIRO Regional Research Laboratory at Deniliquin, Ian campaigned for applied research and development in the rangelands of the area, nominating excessive stocking rates, drought, possible climate change, feral pests and weeds as threats to the unique rangeland landscapes and to the plants (trees, saltbushes, bluebushes and grasses and forbs) that are natural to the area. He formed Hay Trees on Plains Landcare Inc. as a means of creating awareness, developing recommendations and accessing funds to monitor rangelands, rehabilitate scalds, create biodiversity and promote discussion by groups and at forums on sustainable practices.
There have been several outcomes from the projects initiated by Ian. A project funded by Toshiba assisted in mapping the main areas of African boxthorn in the area, as a guide for spraying activities. A Woolworths-funded Landcare project helped create vegetation reference areas. Another outcome was the design and construction of a direct seeder and its location at the Murrumbidgee CMA (now Riverina LLS) office in Hay, where it is available for hire.
Ian also recognised the potential impacts on local wildlife from replacing a ground-based tank and channel system for stock and domestic water with a piped system. The threat is especially acute for animals and birds that rely on the wetlands created by the original system. In conjunction with Murrumbidgee Landcare Inc., the Wah Wah Water Users Association and Murrumbidgee CMA, Ian's Hay Landcare Group obtained funds for work to document the likely impacts on wildlife and design of mini-wetlands to conserve the wildlife that is dependent on them.
Ian Auldist attempted on several occasions to wind back his involvement in Landcare and the Hay community but his enthusiasm always prevailed. He was a founding member of the Murrumbidgee Landcare Inc. network and a member of the Board of Riverina Local Land Services from its inception. Ian Auldist leaves behind a legacy of consideration and care in the management of agricultural and natural resources in the rangelands setting.
Ian passed away on Wednesday 24 February 2016.  He will be sorely missed!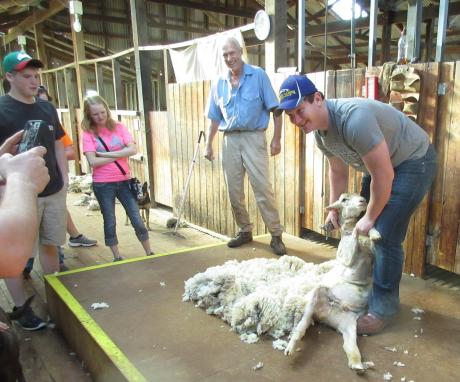 The photo above shows Ian Auldist in action with students from Western Illinois University, who visited Hay and Shear Outback in March 2015.